Click here to get to our homepage if you got directly onto this page through a search engine.
Contact / About Us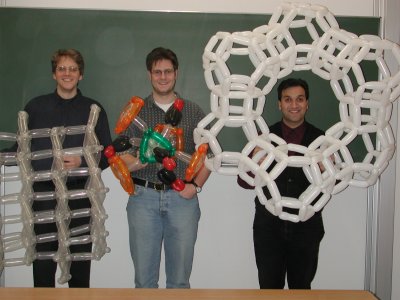 From left to right: M. Rehbein, R. Eckhardt, A. Karim
If we have violated some copyright regulations, please let us know so that we can delete the respective contents right away.
If you have questions, suggestions or critical comments, we are happy to help. Send us an email or call. We are all equally involved, responsible and know all different fields even though each of us has his own special field of interest. The first practical employment of balloon molecules in a scientific lecture was part of a presentation workshop of young chemists in Hamburg. From this day on both our presentation techniques and the measure of employment of the models have been constantly broadened.
Rolf Eckhardt is a PhD chemist and has intensively looked into the presentation of topical research steps with modelling balloons. He writes various publications about the didactics of balloon molecules. Due to his connection to topical research he constantly expands the measure of employment of our sculptures into new fields.
Asif Karim is a chemist and got into balloon sculpturing as a pupil. After joining the workshop of Prof. Dr. R. D. Fischer (University of Hamburg), he got to know Rolf Eckhardt and Marcus Rehbein. Together they developed the idea to use modelling balloons to visualise chemical structures. Asif Karim very often gives lectures at universities about the applicability of modelling balloons to visualise structures. His ability to entertain and perform supports his lectures.
Click to go to Asif Karim's balloon entertainment homepage (german).
Mobile: +49 172 410 69 18

Marcus Rehbein is a PhD chemist and employed as a teacher where he works on using modelling balloons for the visualisation of simple, student-appropriate models. Through the usage of modelling balloons in his lessons he expands the didactic know-how of the group.
Tel.: +49 4102 982478
FAX: +49 4102 982479

Click here to get to our homepage if you got directly onto this page through a search engine.
WebImpressum (Germany)
Ballonmoleküle GbR
c/o Marcus Rehbein
Pappelweg 52a
22949 Ammersbek
Germany

phone: 0049-4102-982478
fax: 0049-4102-982479
E-Mail: info@Balloonmolecules.com
Internet: www.Balloonmolecules.com

Partners authorized to represent: Dr. Rolf Eckhardt, Asif Karim and Dr. Marcus Rehbein

Responsible for the contents according to § 6 MDStV: Dr. Marcus Rehbein

Note of liability: In spite of a careful control of the contents the operator does not take liability for the content of external links. For the content of linked pages only their own operators are liable.